View Our Yoga Retreat 2022 Europe Calendar

We're always adding new weeks to our yoga retreat calendar in Europe for 2022 so check back regularly for updates.
We invite you to join us for a peaceful and restful break from the world at our 7 hectares of all-natural, beautiful forested land in a rustic area in
Europe
. Whether you're an advanced pratitioner or looking for beginners weeks, a yoga week just for women, or a Vinyasa Flow style of practice, this is where you'll find it.
Below you'll find more information on our retreat as well as helpful links to our retreat overviews and what you can expect to learn and to experience on a week at Yoga Evolution.
The Space
Our beautiful retreat site one of the main detinations to travel to in
Europe
and exudes a year-round sense of peace and tranquility. We are nestled into a lush mountain valley, surrounded by pine forests and miles of hiking trails. The retreat consists of a traditional stone house, a stone guest house, a series of eco-caravans and a wooden yoga shala. There's an idyllic running stream at the bottom of the valley where you can take a dip and we have a private sea salt water swimming pool that has sublime views of the surrounding mountain ranges. We have countless spaces where you can unwind with a book, relax in a hammock and breathe in the pristine mountain air far away from the troubles of daily life.
Your Teachers
Though the retreat is ran and maintained by Peter & Sue for much of the year, we also host guest teachers and specialists from all over Europe, such as Leo Rutherford, a renowned teacher and pioneer of shamanism in the West, who teaches along with Peter on our Shamanic week, and Kate and Freya who teach on many of our August weeks.
As a friendly and knowledgeable team, we offer the highest standard of teaching and guidance to help you to get the most out of a retreat. With this in mind, we have developed each of our yoga experiences to be one of the most inclusive retreat centers Europe and offered to you in small community-inspired groups to make sure that you leave with a solid foundation and a new found understanding of the fundamental aspects of Yoga. We'll always be close by to offer whatever help that you need on your journey.
Accommodation
We have a selection of rooms and eco caravans that you can book in single, double, twin or shared rooms. If you want your own private facilities then you will need to book our recently and tastefully renovated stone cottage which is perfect as a double, shared or twin room. Take a closer look at each of our rooms here.
Find a yoga retreat below.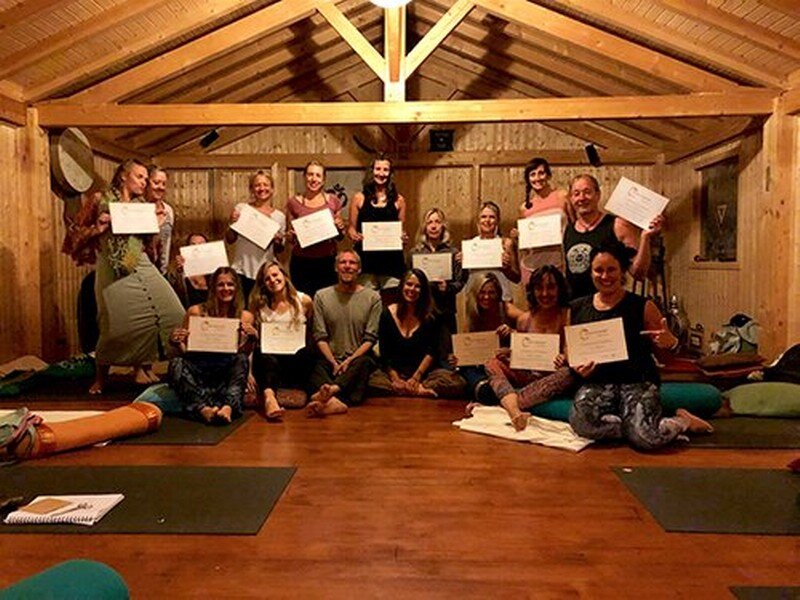 One Place available
September 20th to 1st October - Yin Yoga Teacher Training
Join Sue & Peter on a 10 day/100 hours Yin Yoga teacher training course.
28th of December 2022 to 4th of January 2023
Vinyasa, Qigong, Shamanic, Meditation
I have had a truly rejuvenating and enriching stay. not only do i feel well rested and energized, more so leaving with the feeling of motivation and am inspired to return home again. what marks this retreat as unique is the wholesome balance which peter and sue achieve in the way they live. They enjoy a beautiful and respectful relationship with the earth in this part of Europe and this is reflected in there yoga practice and there diet. There macrobiotic lifestyle means that nothing is wasted and everything is free to move through the cycle of nature. this balance is captured in there approach to yoga and you are taught the dynamics by which to reconnect with the breath with the earth and with your inner awareness. What i found refreshing was the unpretentious way peter and sue where able to recreate the conditions by which i was able to reconnect with nature.
They live in a beautiful part of Portugal in Europe which is surrounded by hills valleys and forests. the yoga spaces take you right out onto the edges of these dramatic views. the food is delicious and leaves you feeling nourished and grounded. You will truly enjoy the wonders of this rustic rural yoga retreat.