Freya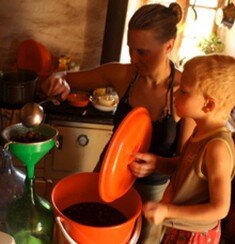 Freya has been living in Central Portugal for the last ten years and have developed a passionate interest in the local flora. My interest in wild plants sparked when I studied Environmental Science at Aberdeen in the 90´s, and has grown steadily from then on. By living "off grid" and working on my small-holding (vegetables, chickens and goats) I try to stay connected to nature and close to nature's cycles – something which is becoming increasingly difficult for people caught in today's busy lifestyle. I offer two activities at the retreat, a guided nature walk and an incense-making workshop.
Guided Nature Walk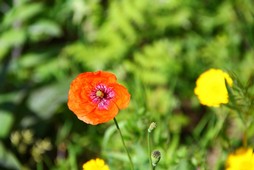 Join me for a 2 ½ hour walk along the forest paths around Amieira. We will see many endemic and introduced plant species and talk about the stories behind them, from their place in traditional Portuguese culture to uses in modern herbal medicine. You will also learn about how to prepare simple remedies, such as tinctures and infusions, from the herbs you find.
Making your own Soap


The Olive Oil Soap we make is completely natural. Today there are a lot of soaps on the market that contain chemicals to make them smell better, make them feel better on your skin. Years from now, when the laboratory tests are all complete, these unusual chemicals might prove to do more harm than good. Olive oil has been used for centuries to moisturize and gently cleanse the skin. Its antioxidant properties are legendary for nourishing skin and fighting the signs of aging. Each soap we make has a slightly different characteristic, this has to do with the ingredients we use. Once the soap has been made and is about to be poured in the molds various additives (all natural) can be added, for example: oatmeal which has natural fats to keep your skin moist and also acts as an exfoliant; Green clay is rich in minerals, absorbs oil from the skin and revives and purifies the skin, Calendula has antiseptic and anti-inflammatory properties which are useful for treating various types of dermatitis such as eczema.and of course various essential oils for fragrances. In this way the soap you make can be tailored for your skin type.
Incense Workshop
Discover how easy it is to make your own incense from locally collected herbs, barks and berries. We will look into the basic steps of choosing and combining scents, after which you will make your own personal blend of loose incense from a selection of ingredients.
Each activity costs €10 per person (€15 per person if there are only 2 people).