Book a Yoga Retreat with us
Please put the date that you would liketo visit us in your email. We usually reply in a couple of days, so do check your spam folder.
To book a retreat please fill out the form below.
You are also fine to pay for your retreat in installments

We have a lot of emails asking if a partner who does not practice yoga can come along and the answer is "yes". They will pay half price and stay in a double room with you.
We understand that most people while on retreat like to have their own private space and our home has seven single bedrooms, three double bedrooms and two twin bedrooms and a private stone cottage which is a twin, single or double. Please let us know what room you would like to book when you contact us, rooms will be allocated on a first come first served bases. We would be grateful if you would volunteer to share a room with (same gender). someone else. That way we can fill all of the spaces. For those of you who would like to be closer to nature we have 3 wooden caravans.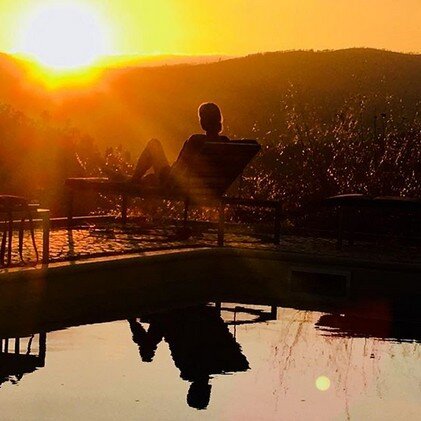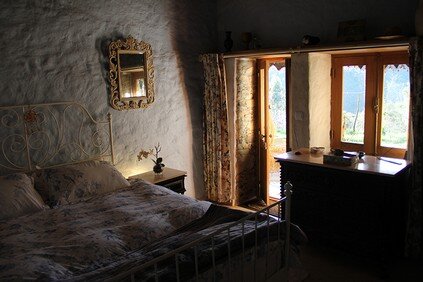 A none refundable 150 Pound

per person (or equivalent in your currency) deposit upon booking the place with the balance to be paid 28 days before arrival. Payment is through bank transfer. If you need to cancel for any reason it is not possible for us to refund the balance less than 28 days before the retreat unless we can find someone else to fill your place. If you are not able to make it then we can transfer you over to another week if we have places. We can transfer you over to another year under exceptional circumstances. This is something that we have done every year. Swimming pool is unavailable in the winter months. (see full terms at the bottom of this page)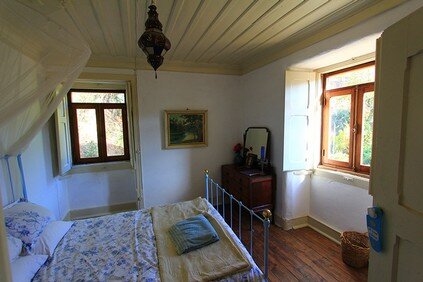 Our European yoga retreat centre Portugal is set in thirteen acres of unspoilt forest land in Portugal and is the perfect for taking time out to realign and centre yourself. With many different yoga holiday choices we can offer you an authentic yoga experience. Peter & Sue are highly trained yoga professionals, having trained in many disciplines over the years and teaching retreats for well over a decade. If you are looking for an ashtanga yoga retreat or vinyasa yoga flow holiday then we have them here and more.
Our retreats are available for all levels of experience but your retreat will be enhanced if you can go to class.
Single/double ensuite £700 pp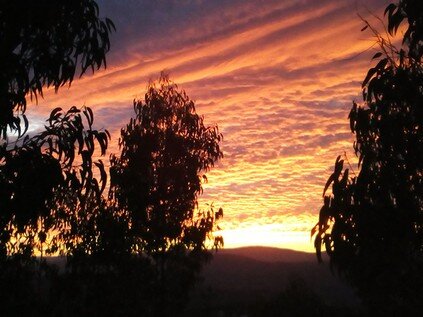 The cost of your retreat here will include accommodation, twelve yoga classes per week, and three delicious vegetarian meals a day. We also have as much herbal tea as you can drink. If you like a coffee then this will be available at 60 cents per cup. The proceeds are donated to a local animal fund for abandoned animals.
We provide Wifi internet, towels and manduka yoga mats. A full list of what bring is provided to ensure you have all you need to enjoy your stay with us.
What's included in your stay with us
Arrive Saturday evening and leave Saturday morning.

transfers from Oleiros to the retreat center

7 nights accommodation

2 daily yoga classes with meditation - 12 classes during your stay

3 delicious vegetarian meals per day with a sweet to follow. sweets range from raw chocolate to healthy homemade raw cakes

Extra help with your practice if you feel you need clarification with an aspect of any of the many practices we teach.




A picnic on a day out to the river Zezere



Massage, soap making workshop, incense stick making, medicinal herbal walk workshop

Enjoy the day with a picnic at the river Zezere once a week to take a dip. You can spend your time reading one of our many books or learning more about macrobiotic cooking, gardening, permaculture, or join in one one our workshops offered by our friends. All around the retreat center we have some of the most beautiful unspoilt walks and views in Portugal with natural springs, forested valleys and mountain ranges.