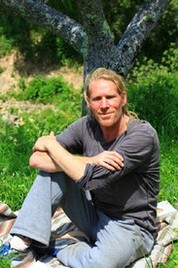 Peter

Peter was born on Wirral in 1971 and started practicing at the age of seven under the instruction of his ninjitsu teacher who introduced him to hatha yoga posture work, meditation, pranayama and mudra which is fundamental to the practice of the martial art ninjitsu with yin & yang taking centre stage in this art. He then continued his practice until introduced to ashtanga vinyasa yoga in 2004 by Sue his partner, who is his first teacher of yoga.

After practicing intensely for 2 years he then travelled to India to deepen his practice and understanding of yoga, staying at an ashram for a month, completing a teacher training program at yogapoint.com. The teacher training program made him feel like he had come home to his spiritual roots and finally he could embark on a journey of jnana yoga (the yoga of questioning everything and investigating to increase knowledge that is free from corruption).

In 2006 he travelled to Frankfurt to complete David Swenson's teacher training as it resonated with him. He likes the idea of not pushing or forcing yourself into uncomfortable positions just to create a body shape. He prefers to use David's approach of using the breath as the guide to accessing more depth in the postures with meditative awareness. Peter has completed his Mindfulness training with the Mindfulness Association in the UK and has trained with many teachers and completed hatha, yin, ashtanga, ashtanga vinyasa, meditation, pranayama, mudra, chanting within his teacher training courses. He is currently continuing his training with the Mindfulness Association and training in Shamanism healing work. Peter blends the practices that he has learnt to teach into the retreat week in a very skillful way making each retreat a journey towards finding peace of mind.

Peter has now been teaching ashtanga yoga and other yoga practices for more than a decade and practicing yoga and meditation for most of his life. He has a real passion in the physiopsychological effects of yoga and how if yoga is practiced correctly then great healing can take place. This is his experience of a balanced yoga practice. When it has come to the challenges of life he has found yoga & meditation a really safe place to put things into
perspective. He is a keen gardener and loves spending time restoring degraded soil using
biodynamic( planting by the phases of the moon and permaculture techniques.


Previous work

Peter originally trained in agriculture after starting work in market garden centres at the age of eleven, while still working in agriculture, spending hours alone driving up and down fields (big yoga) he started working with people who had learning difficulties at the age of 17. He decided to stop agriculture at the age of 21 after learning about the effects of the chemicals that are being fed to the population.

He then decided to move to Sheffield were he found work as a nursing auxiliary in a local hospital. He spent three years learning how to care for people in mental health, orthopaedics and outpatients. He then went onto work with acute spinal injuries for four years and this is how he learnt to work with people's bodies by helping other to be comfortable even though in pain.

He then went onto work in the Sheffield community with the terminally ill, giving care to families who wanted to remain at home with there relatives, providing and co-ordinating the care needed at the time.

After spending around ten years in a care giving environment he decided to train as a systems engineer and computer engineer and spent around eight years in this field, before moving to Portugal where he is still building a place for all to share.

Peter is a SYT - Registered
senior yoga teacher
with the UK Yoga Alliance and has completed teacher training in mindfulness with the M
indfulness Associationin in the UK
. Peter teaches the morning ashtanga vinyasa yoga class, guided mindfulness meditation and pranayama and introducing his core strength vinyasa practice. Peter is also qualified yin yoga teacher and mindfulness meditation practitioner and teacher providing an in depth insight into the purpose and methods of these transformative practices. He has completed the mindfulness association UK's foundation, practitioner & teacher trainings courses.