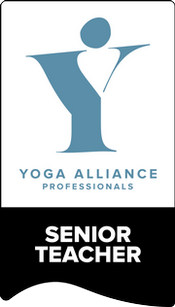 Peter & Sue are both registered Senior Yoga Teachers (SYT) with the Yoga Alliance Professionals UK. This accreditation demonstrates excellent standards as set by Yoga Alliance Professionals UK."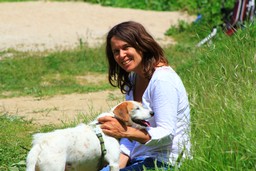 Sue
Sue was born in Sheffield South Yorkshire in 1967.After studying law at university in Hull & then at Law college in York Sue moved to Leeds West Yorkshire where She worked in a Hostel for homeless young people for several years before joining British Airways as long haul cabin crew.
She first practiced Yoga in Singapore in 1999 while on a work trip & from the very first class had a strong inclination that it was the start of a profound journey of transformation that would influence the course of her life. From the start Sue saw the healing light and holistic potential of a regular yoga practise which she passionately seeks to pass on to others today, especially those who may be suffering in any way. Her first practice was in Iyengar Yoga & she had regular one to one classes in her adopted home town of Leeds she also went to regular classes & workshops in absolutely any style of Yoga she could find wherever she found herself in the world.After a few years she began practicing with Dynamic Yoga Teacher Gillian Shippey who became a close friend & mentor. This lead her to go on in-depth retreat with Godfrey Devereux in Italy, the deep integrity, softening capacity, beginners mind approach & gentle breaking down of posture resonated strongly so that in 2005 she undertook her first 200 hour training in the Dynamic Yoga Method.
Although She still lacked a certain amount of confidence in her teaching abilities life had other ideas for her & within a year she had given up her full time employment & found herself teaching full time in Leeds mainly in Health Clubs & with several private clients. When she & partner Peter started running popular weekend retreats in the North Yorkshire countryside Sue realised her next step to fully immerse herself in a life teaching in a retreat environment. In October 2007 she & Peter bought the beautiful but derelict Quinta Do Bacelo (trunk of the Vine estate) in Portugal & they moved here in January 2008 with Cat brothers Hari Om & Blue. The first year & a half she laboured daily to help restore the property which brought about some wonderfully instructive physical injuries which she would later learn how to repair.
Sue & Peter Have been holding retreats here since 2009. Sue has taught regular workshops exploring elements of the Ashtanga Vinyasa Practice & Yin Yoga since 2012. She also loves to chant & leads the closing ceremony Kirtan on a friday night.Sue also runs her own retreats a few times a year.
Sue has also attended other teacher training courses around the world. Some of her most influential and inspiring teachers are Venkatesh in Mysore and Gandhar Mandlik at Yoga Point where she did her traditional Hatha training (www.yogapoint.com). She is also certified to teach pre and post natal yoga which she studied with Francois Freedman at Birth Light. Sue has also undertaken Continued Professional Development in Restorative Yoga with Judith Lasiter & completed part of her Ashtanga Teacher Training course with Brian Cooper which she was unable to continue due to her move to Portugal.
Sue is a compassionate, intuitive & caring Yoga teacher with a deep understanding of the human condition.She is honest, open, without pretension & happy to share the more personal aspects of her healing journey & the profound impact that yoga has had on her life if it resonates with any difficulties her students may be experiencing on their path. Her teaching style is calm & thorough predominantly using her voice to deliver clear, grounding concise instructions. She firmly believes in the importance of knowing why we do what we do during practice & explains the benefits of various techniques from an anatomical, physiological & energetic perspective. Her style weaves themes from the scientific to the philosophical to the esoteric.
After a four year break establishing the Yoga Evolution Retreat center Sue resumed her studies Qualifying as a Yin Yoga Teacher focusing on Yin from the perspectives of Mindfulness , Traditional Chinese Medicine & Modern Meridian Theory under the tutelage of Sarah Powers in 2012 & in 2014 took her Yin studies deeper training with Anatomist & Yin Yoga Founder Paul Grilley in California, focusing on comparative anatomy & the Chakras.
In September 2014 Sue began her in-depth Training to become a Yoga Therapist in London with the Minded Institute which provides a rigorous both practical & highly academic Training in Yoga Therapy the first course globally to focus on Yoga for Mental health in addition to Yoga for physical & Structural problems. Sue recently completed the course Modules & is now a Trainee Yoga Therapist Insured to Work with the public. During Summer 2016 Sue will be offering free Yoga Therapy sessions each week to any students with additional needs on the retreats.
The past few years have seen Sue beginning to integrate other alternative Healing Modalities into her own practice & teaching & Later this Year she commences her Shamanic Homeopathy Training with renowned Allopathic & Homeopathic Doctor Yubrik Sharma at the World of Light School in London . She envisions that in the future we will more & more be fusing Yoga Practice with other therapies to bring about deeper transformation & radiant good health.
Sue also likes to cook here at the retreat center although more infrequently as her other duties take precedence today. She originally trained in nutritional healing with the College of Natural Nutrition in London. She designed the Menu at the retreat center which is based on a healthy & tasty fusion of Vegetarian food drawing from macrobiotic, Ayurvedic & Raw food principles . When she isn't immersed in all things Yoga Sue loves working on the land, dancing & hanging out with all the wonderful Animals here at the retreat.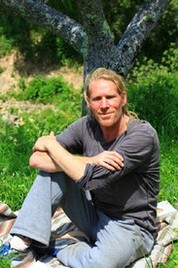 Peter
Peter was born on Wirral in 1971 and started practicing at the age of seven under the instruction of his ninjitsu teacher who introduced him to hatha yoga posture work, meditation, pranayama and mudra which is fundamental to the practice of the martial art ninjitsu with yin & yang taking centre stage in this art. He then continued his practice until introduced to ashtanga vinyasa yoga in 2004 by Sue his partner, who is his first teacher of yoga.

After practicing intensely for 2 years he then travelled to India to deepen his practice and understanding of yoga, staying at an ashram for a month, completing a teacher training program at yogapoint.com. The teacher training program made him feel like he had come home to his spiritual roots and finally he could embark on a journey of jnana yoga (the yoga of questioning everything and investigating to increase knowledge that is free from corruption).

In 2006 he travelled to Frankfurt to complete David Swenson's teacher training as it resonated with him. He likes the idea of not pushing or forcing yourself into uncomfortable positions just to create a body shape. He prefers to use David's approach of using the breath as the guide to accessing more depth in the postures with meditative awareness. Peter has completed his Mindfulness training with the Mindfulness Association in the UK and has trained with many teachers and completed hatha, yin, ashtanga, ashtanga vinyasa, meditation, pranayama, mudra, chanting within his teacher training courses. He is currently continuing his training with the Mindfulness Association and training in Shamanism healing work. Peter blends the practices that he has learnt to teach into the retreat week in a very skillful way making each retreat a journey towards finding peace of mind.

Peter has now been teaching ashtanga yoga and other yoga practices for more than a decade and practicing yoga and meditation for most of his life. He has a real passion in the physiopsychological effects of yoga and how if yoga is practiced correctly then great healing can take place. This is his experience of a balanced yoga practice. When it has come to the challenges of life he has found yoga & meditation a really safe place to put things into
perspective. He is a keen gardener and loves spending time restoring degraded soil using
biodynamic( planting by the phases of the moon and permaculture techniques.

Previous work

Peter originally trained in agriculture after starting work in market garden centres at the age of eleven, while still working in agriculture, spending hours alone driving up and down fields (big yoga) he started working with people who had learning difficulties at the age of 17. He decided to stop agriculture at the age of 21 after learning about the effects of the chemicals that are being fed to the population.

He then decided to move to Sheffield were he found work as a nursing auxiliary in a local hospital. He spent three years learning how to care for people in mental health, orthopaedics and outpatients. He then went onto work with acute spinal injuries for four years and this is how he learnt to work with people's bodies by helping other to be comfortable even though in pain.

He then went onto work in the Sheffield community with the terminally ill, giving care to families who wanted to remain at home with there relatives, providing and co-ordinating the care needed at the time.

After spending around ten years in a care giving environment he decided to train as a systems engineer and computer engineer and spent around eight years in this field, before moving to Portugal where he is still building a place for all to share.

Peter is a SYT - Registered
senior yoga teacher
with the UK Yoga Alliance and has completed teacher training in mindfulness with the M
indfulness Associationin in the UK
. Peter teaches the morning ashtanga vinyasa yoga class, guided mindfulness meditation and pranayama and introducing his core strength vinyasa practice. Peter is also qualified yin yoga teacher and mindfulness meditation practitioner and teacher providing an in depth insight into the purpose and methods of these transformative practices. He has completed the mindfulness association UK's foundation, practitioner & teacher trainings courses.