Yoga Retreats May 2023 Portugal Europe
29th April to 6th May 2023
Vinyasa, Qigong, Yim Yoga, Gong Meditation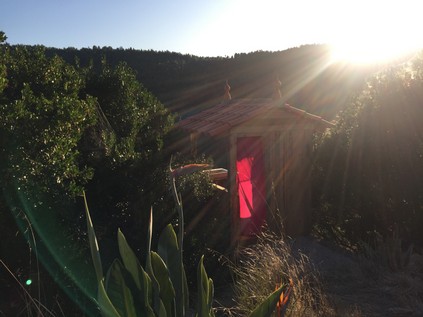 Join us on our yoga retreat in May where
w
e have two types of retreat for you to choose from. Our retreats incorporate yoga and meditation, qigong, gong baths, yin yoga, vinyasa flow. We also have workshops for making soap and make available a long walk with Freya. Our retreat weeks allow you to rest and restore deeply in the heart of central Portugal at our yoga retreat centre. This may we have our 100 hour 10 day yin yoga teachi
er training course for those who are teachers or looking to dive deeper into the world of yin yoga. Our evolutionary yoga practice brings together the richness of all spiritual growth paths and is a wonderful blend of yin & yang practices.
Our retreats are available for all levels of experience and we invite you to explore the abundance of teaching that we provide. The food is healthy and served with love, it will always be tasty vegetarian whole food to assist in bringing you into to balance and restore your energy.
May is the time of year when all of the wild flowers are in full bloom all around the retreat centre. When you are not practicing yoga you can take a dip in our swimming pool or relax with one of our books under the shade of a tree or in a hammock. At this time of year we like to let nature go wild and it is always so wonderful to be around the abundance of wild flowers.
----------------------------------------
What's included in your stay with us

transfers from Oleiros to the retreat center

7 nights accommodation

2 daily yoga classes with meditation - 12 classes during your stay

3 delicious vegetarian meals per day with a sweet to follow. sweets range from raw chocolate to healthy homemade raw cakes

Extra help with your practice if you feel you need clarification with any aspect the many practices we teach.




A day out at the river Zezere

with a picnic lunch




We also have a raw chocolate making workshop which is donation only




massage




Organic soap and moisturiser making workshop with Freya

taking a walk to learn about medicinal herbs with Freya



Yoga Evolution Retreats, Amieira, Oleiros, Castelo Branco, 6160 052, Portugal - 00351 272 634 004 with Sue & Peter
Single £600 - Shared Twin or Double £550pp - Eco caravan £500
Yoga Evolution Retreats, Amieira, Oleiros, Castelo Branco, 6160 052, Portugal - 00351 272 634 004
https://www.yogaevolutionretreats.com