Vinyasa Yoga Flow Retreat Yin Yoga & Meditation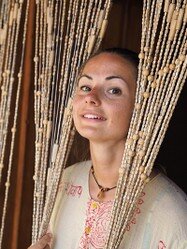 Join Freya on this vinyasa yoga flow retreat in August. The word vinyasa translates from Sanskrit to mean a sequence of postures brought together by movement on the breath and an awareness of how our body moves within the force of gravity.
Vinyasa yoga can also be seen as being a dance incorporating body, mind, and breath with full awareness of what is happening right now within our experience of the moment, while measuring the impact of action versus reaction. If we move our body in a way that allows our edge to express itself fully through the breath, every vinyasa yoga practice can allow for a smooth rhythmic breathing pattern to unfold with our movement and ultimately create a meditation within movement.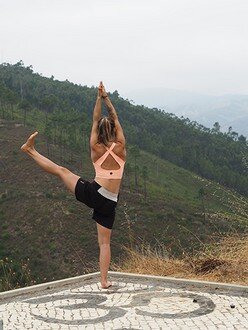 During this week long retreat we will explore the body through a variety of sequences, discovering a sense of fluidity as we transition between different asanas. We will work with pranayama techniques as well as mindfulness meditation to begin our practice and help us to cultivate a mind-body connection. Each morning's practice will have a different focus from twists to balances and we will use this movement to get not only deeper into our physical bodies, but also into our mental body. Freya likes to work with the proprioceptive system; our bodies way of knowing where our limbs are in space without having to look. Our flows will be working with building coordination and increased physical awareness.
The evening practice will take a slower more restorative pace, working within the practice of Yin yoga to open deep into the joints of the body.
Thank you to our guests for the reviews below
Freya teaches like a young tiger would do: sharp, clear, clean in her style and in the direction she wants the class to take. She is a teacher who has found her own path and her passion is what you will enjoy the most while attending her classes. Carlo
"Thank you Freya, for your patience, your wisdom and your clear and caring approach. i feel more flexible and more determined to make yoga a more regular feature in my life. Gemma
This week was quite a journey. The yoga practice with Freya was perfect, you not only get to exercise the body but also to feed the mind, so inspiring! What can I say - you have made my first week here wonderful with such patient, kind, considerate yoga with the perfect amount moving us beyond ourselves each day. Babs
"Freya is calm and her grounded energy has been inspiring. Thank you for teaching me so much more than yoga asanas. Your reading and stories during our Yin practice will be remembered. Thanks for being open and welcoming, I feel extremely lucky to have had the opportunity to be taught by you. The yoga was particularly special. Freya's teaching was top class with a lovely friendly style that helped everyone to progress during the week. Her knowledge was very impressive! Rory
Freya is a beautiful teacher, calm, understanding, clear, non-judgemental and extraordinary knowledgeable. She combines this with a humility and humour that appeals to both beginners and experienced yogis alike. Just a wonderful, challenging but never frustrating, peaceful and fabulous week, thank you! Chrissy
What can I say - Freya is the most patient and kind teacher. a beautiful blend of encouraging you to move past the limits of your mind and into the possibilities of your body. I have a new found love for Yin yoga too. Babs
Having dipped in and out of yoga, I have to say a week spent practising with Freya has been brilliant. She is a very knowledgeable and approachable teacher. She understands and treats each as an individual. I look forward to practising with her once again. Lizzy
I have absolutely loved Freya's yoga classes. There has been so much variation and Freya is so supportive and approachable. I have learnt so much and can't wait to continue. Thank you so much Freya-you are a star! Clare
Thank you Freya for a marvellous week, and for reigniting my love of yoga. Freya is a beautiful teacher - calm, approachable and patient. Accepting of individual limitations whilst remaining encouraging. It was a delight to be taught by Freya for four hours a day, and I hope to practice with her again. Grace
Thank you for such an enriching week! I have loved the classes with Freya. I've really enjoyed the yoga, the breathing exercises, the mindfulness, the stories and the fun! Sam
Single £600 - Shared Twin or Double £550pp - Eco caravan £500
Yoga Evolution Retreats, Amieira, Oleiros, Castelo Branco, 6160 052, Portugal - 00351 272 634 004
https://www.yogaevolutionretreats.com