Volunteer On One Of Our Yoga Retreats
We are currently running a volunteer programme here at the retreat centre.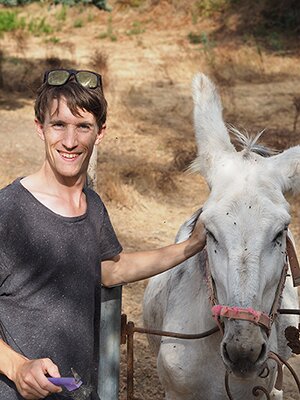 We are making spaces available for committed, motivated, enthusiastic people with an interest in Yoga & the natural environment to take part in a Karma Yoga work exchange.
You would be asked to work 25 hours a week over 6 days, which would work out at approximately four hours work per day.
The post is a brilliant opportunity to learn about healthy vegan cooking & the day to day running of a community yoga retreat centre.
Duties would mainly include working alongside our Professional Chef & Nutritional Therapist Selina in our beautifully situated dedicated retreat kitchen prepping Veg & assisting in the creating of many delicious meals.
Other duties would include" Feeding Time at the Zoo" helping look after our menagerie of Loving Animal Companions. Hanging out the Laundry & Watering the Flowers.
In exchange you would receive Food, Accommodation, the Opportunity to take part in all of the Yoga Evolution Yoga Classes & Meet lots of wonderful likeminded people from all over the world.
Please note it can be demanding both Physically & Emotionally to both participate in & simultaneously be part of the work team on retreat, we will do our very best to support you should the need arise but we kindly ask that you do a little soul searching before applying to consider whether it is something that is appropriate for you at this time as we need the team to be strong to be able to hold the space in a way that meets our guests expectations.
If you are interested please email sue@yogaevolutionretreats.com & let us know a little bit about yourself, why you are interested in the programme & when you are available & we will get back to you as soon as possible. We would recommend your participation for at least 2 weeks to really immerse yourself in the experience & to plan to leave / arrive on a Saturday so that you stay in the same retreat rhythm as our Guests.