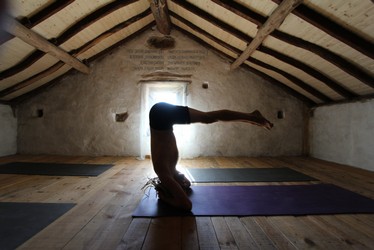 Each morning before practice we will be sitting for a 12 minute meditation. The meditation techniques Peter uses have been taught here for many years. These techniques are fundamental in our yoga practice allowing us to experience the mind/body/prana in the moment.
Peter will be holding one week of mysore style practice in 2016 with Sue teaching five yin yoga classes in the evening from 6pm. This week gives you the opportunity to glide through the practice at your own pace and ;earn the sequence of the primary series at your own pace. This will leave you feeling like you own your own practice by the end of the week. None forceful hands on assists and adjustments will be given on this week as well as giving you the chance to try new things out, if this is appropriate. so if you are wanting to try hand stands, drop backs and many other challenging aspects of the practice, then this is the week for you. If you want to learn slowly then this is also the week for you.
Bringing balance through Yin Yoga & Mindfulness Meditation


Peter & Sue have completed thier yin yoga teacher training with the insight yoga institute and will be teaching five yin yoga evening classes to help balance the yang created from the ashtanga vinyasa yoga practice. The yin practice will fucus more on the less fluid connective tissues as well as stimulating certain meridians within the pranic body. We will also be finishing the week with a core strength vinyasa yoga class.




This retreat is open to all levels
Single £550 - Shared Twin or Double £500pp - Eco caravan £450
Yoga Evolution Retreats, Amieira, Oleiros, Castelo Branco, 6160 052, Portugal - 00351 272 634 004
https://www.yogaevolutionretreats.com