We are very honoured to be hosting a shamanic retreat this year with Leo Rutherford of Eagleswing, College of Contemporary Shamanism, Author of several fundamental books on shamanism including the Principles of Shamanism, The Medicine wheel and the shamanic path workbook. This is a great opportunity to work with one of the UK's most experienced Elders in the practice of Shamanism.
2nd to the 9th of June
The Shaman's Path – Ancient ways for modern times. With Leo Rutherford. Portugal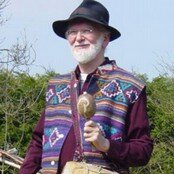 Our ancient roots are in shamanic cultures wherever we live and whatever sort of culture we have grown up in. It is our spiritual heritage. Long before such relatively recent (around 3000 years) concepts as organised religion, humans sought understanding and knowledge of the universe using a variety of experiential ways which are just as applicable today as ever. These practices are still in use in a surprisingly large number of places in the world and many shamans of indigenous cultures and now sharing their ancient wisdom with all comers.
The medicine wheels are stunningly wonderful multi-dimensional maps of the territory of life within the majesty of the cosmos. Medicine wheels have been used for teaching about the cosmos and how it works since antiquity. They teach the natural order of things, of humans' place in the world and of the deep purpose of life.
This workshop will give participants knowledge of the Four Directions, of the powers of the universe that act upon us, and suggest ways of healing old wounds and finding new vision and purpose.
Trance Dance, Shamanic journeys, Sweatlodge. Opening to spirit and the parallel worlds.

Trance-Dance brings together body movement, dynamic rhythms, healing sounds, transformational breathing techniques and the innovative use of a blindfold or bandana – together stimulating a trance state that promotes spiritual awakenings, mental clarity and emotional well-being.
Shamanic journeying takes us inside while the body goes into rest mode. The monotonous beat of the drum enables an opening in our visionary centres. Travelling with specific intent garners our inner being/spirit to give us pictures and feelings to help understanding of life patterns.
Both these methods can take participants on an 'inner journey' outside of normal perceptions of space/time. Ritual trance journeys have been a vital part of shamanic cultures for thousands of years. Our contemporary approach to Trance-Dance brings together the richness of these ancient rituals with effective modern techniques. Often the shaman will begin to enter the trance state through movement and then come to the floor and leave the body to journey. Sweatlodge is a sacred prayer ceremony and will add greatly to the experience of touching other worlds
All retreats prices per person - Single room £550 - Sharing twin or double room £500pp - Eco caravan £450
Stone Cottage £600pp
. This includes accommodation, classes and food.
At Yoga Evolution Retreats, Oleiros, Castelo Branco, Portugal. Booking: info@yogaevolutionretreats.com / leorutherford@eagleswing.co.uk / 01435-813508 / 07714-333989